Kenny Brack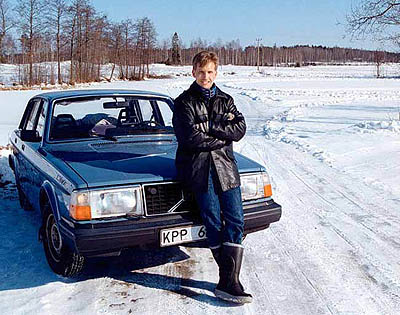 I started to drive a car when I was six years old. First I sat on my father's lap, but when I turned eight, I was tall enough to reach the pedals myself. All winter we practiced on a frozen lake close to our home. We only had summer tires so I guess I had to learn car control the hard way. But after years of digging my car out of deep snow, even my father started to lose his patience. Luckily I had a neighbor who used to watch us and who believed that I had some talent. When I turned 13, he gave me my first car - a green Saab V4 - but believe it or not - even that one had summer tires! After one more year of practicing and saving, I proudly bought my first set of rally tires. Immediately after that, I started to compete with the older guys on the lake and on small roads during the night. I was fast from the start and that's when I decided to become a professional driver.
After a couple of years in go-karts, I wanted to move up to formula cars. However I soon realized that speed on the track is not enough. Without sponsors, you will never see the green flag. My neighbor came to my rescue again by closing a deal with a pop group called Vikingarna and a local bus company.
However, he also told me that from now on you have to fix it on your own. I remember sitting in his living room in the daytime when he was at work, going through the yellow pages calling hundreds of companies per week. Nine out of 10 said "NO, thank you" immediately. But after a while, I had scheduled some meetings and out of every 20 meetings or so, I got one positive answer. If I did not get them the first, second, third or whatever time, I tried again the next year. Soon I knew almost every marketing manager in Sweden. The problem was that very few of them knew anything about racing.
Even if it was very frustrating at times, it taught me that nothing is impossible if you try hard enough.

In 1986 I won my first title - the Swedish Junior Formula Ford Championship. Parallel to that, I also made my international debut as teammate to Johnny Herbert in the Quest Team in England. It was a great experience. With Benetton as my main sponsor. I even dyed my hair white some 15 years ahead of Jacques Villeneuve. However, sometimes we went over the top. I remember one occasion when a fellow Swedish racing driver and myself decided to sort things out once and for all. We did it by racing backwards (in reverse gear) 10 km side by side on small roads and through a small village in north western England. When I went back to that village a couple of years ago they still talked about the "crazy Swedes."
Van Diemen gave me a car to use free of charge for the whole 1987 year. However to protect their own works team they never gave me any setups. Every time I asked, they answered that theirs is nothing special - they only use "standard setup". I knew that this was not true but I could not figure out a way of getting the information I needed. But through lots and lots of testing I found my own way of setting up the car so it was fast. On the last day of practice before the final championship race I lapped at exactly the same speed as their official driver, Eddie Irvine. But just before the session closed, we decided to carry out a little practical joke. The last time I passed by the pit lane, a member of my team Jan "Flash" Nilsson, a very good racing driver himself, showed a lap time on my pit board that was half a second quicker than the lap record. The whole pit panicked. Eddie threw himself in his car again, only to find that the track was closed. Later we sat in our bus laughing when it knocked on the door. The vice president of Van Diemen came by to congratulate me on my fantastic lap. First, he said, "We got you fastest out there, Kenny" then he took a deep breath and asked, "By the way, what springs are you running lad," I answered, "Well - exactly as you I guess, the standard setup."
Half an hour later, Eddie's car was in pieces. Even the president of the factory was on his knees in oil trying to figure out what was wrong with the car.
The next day, I qualified second. Eddie Irvine qualified 21st. With a great deal of luck where the main championship competitor fell out, he managed to win the championship. It took over 10 years before I dared telling them what was going on that day at Silverstone!
... With very limited experience in oval racing I made my debut at the Phoenix 200. I finished 11th after having hit the wall while leading on lap 145. I learned the hard way that there is no mercy if you make the slightest mistake on an oval. I was not too disappointed because people had told me that there are two types of drivers on ovals - the ones who have hit the wall and the ones who are about to. Unfortunately later during the season I found out that there is also a type who hits the wall more than once.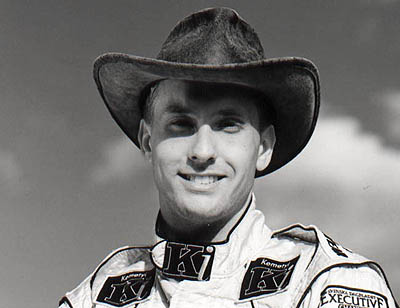 I thought it was a friend trying to pull my leg when A.J. Foyt called me one afternoon from a hotel in Las Vegas. But soon I realized it really was A.J Foyt. He wanted me to fly over immediately and meet him for breakfast the next morning. I said "sure but I am only going to fly Vegas if you are prepared to sign me. He said "ok get your butt over here!" I hung up, only to realize that he never told me which hotel he was staying in! Calling hotel after hotel in Vegas I always got the same answer. "We wish Mr. Foyt was staying here, but unfortunately he is not." A couple of hours later I found his hotel and rushed to the airport. The next morning I went down to meet A.J. in the breakfast room. After a couple of minutes I asked the waiter for a yogurt. A.J. immediately stopped eating - stared me in the eyes and asked. "What? Did I hear you ordering yogurt?" Yes, I answered looking down at the table. Disgusted, he continued, "I tried that once but I didn't like it". Then he cooled down and finished his Texan breakfast consisting of pork chops and pancakes. One hour later, I was contracted by one of motorsport's greatest legends. A.J. did not waste any time teaching me one or two things. I just listened and went on to win the championship by winning three consecutive races, which then was a record in modern open wheel racing, and by completing more laps than any other driver.
...Straight after Las Vegas, I decided that the main goal this year was to win the Indy 500. To do that I knew that I and my team needed to prepare ourselves better than any of our competitors. I started to gather all kinds of information from previous races. I watched videos during long hours, wrote down notes about everything from weather to speeds in different parts of the race. I created a crystal-clear picture in my head of how you need to go about winning the most difficult race of them all. The next step was to tailor a training program in order to mentally implement the strategy I had chosen. The goal was to carry out the perfect race. It could only happen through perfect overtaking, perfect gear shifts, perfect restarts, perfect risk calculations, perfect pit strategy and by checking my competitors' pit boards on every lap in order to be aware of their next move. And most important of all, I always had a mental picture of myself in car number 14 passing the finish line first. When we arrived at Indianapolis, we trained pit stops several times a day. We meticulously adjusted our calculations on fuel over and over again, to make sure that what happened to us last year and to Robby Gordon this year would not happen again. I walked around the 2.5 - mile track so many times that it was more familiar to me than my mother's kitchen.
When the race was about to start, we were ready and I was not a bit nervous. It was an unbelievable feeling to see the checkered flag drop over car number 14, knowing that I had succeeded in reaching the goal I had worked toward for so long.