Rabbit
Aluizio Coelho's racing career has not really followed the traditional route. He arrived in Formula Ford after a very brief apprenticeship. While many drivers spend their adolescence as teenage kart racers before reaching Ford, Al did not spend his childhood behind the wheel, although he probably would have liked to. However, unlike many young drivers who are actively encouraged by their parents or at least their fathers, there was no tradition of racing in his family and as a result he only got behind the wheel of a kart for the first time when he was 18 years old. It is thus doubly impressive that he finished that first season as runner up in the Sao Paulo kart series novice class.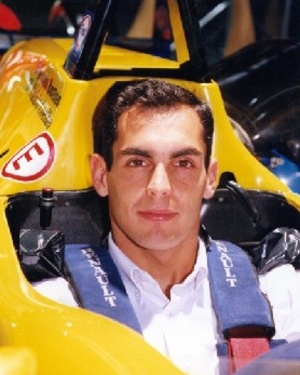 With the pressure on to return to his studies, it seemed as if his racing career was over before it had even begun. It is fair to say, though, that it takes a lot to discourage Al. With few financial resources at his disposal, he sold his possessions and used the proceeds to put himself through the Jim Russell Racing Drivers School. As a result of his progress there he was able to graduate to the Russell Pro/USAC Triple Crown series, completing the final three rounds of the season and snatching the runner-up slot with pole position and a lights to flag victory in the final round at Willow Springs. A new talent was born.
Following on the heels of this performance, he was asked to join Andy Welch Racing. It was an invitation he had to consider carefully, knowing that he had a great deal still to learn. But he was keen to get to Europe, knowing that if he wanted to make it in racing, he needed to be where the racing was most competitive. But it would have been difficult to make the move without support. His family, impressed by the talent and determination he had shown, were able to assist him and so it was that the young Brazilian found himself living in Cheshire and driving for one of the top Formula Ford teams for two years, his first victory coming at Silverstone after a particularly tense and dramatic race that also saw him take pole position and the fastest lap of the race.
A move to Cambridge brought him into contact with most of the other Brazilians racing in the UK, and 1998 saw him graduate to Formula Renault with Manor Motorsport. Here he won his first title, dominating the series alongside his teammate Doug Bell.
With seven victories by the end of the season, there was never much question as to whether he would win. He was delighted with his success and even more so when he realised what it would mean. A test drive in a Williams F1 car followed and graduation to the British Formula Three series with Promatecme UK, the Renault works-backed French team.
This rather serious and highly intelligent young man likes to relax away from the track by playing squash or basketball, or maybe just watching a film. Or perhaps he is sitting dreaming of the day he can afford to buy himself a nice new car. But what he really wants to spend his time doing is driving racing cars very fast.