Slight
Aaron Slight does not go to the motorbike races much any more. A lingering sadness at his enforced retirement from the world superbike championship and the feeling he could still beat most competitors spoils things now for the New Zealand motorcyclist.
He has bought himself a Harley-Davidson because they are slow. "I rode all the other new brands and there was the distinct feeling I'd get myself in trouble," he said, referring to the speed of Japanese and European bikes.
Slight, 35 and fully recovered from the blood leak in his brain which stopped his career as it was about to peak, is in New Zealand to promote his book 'You Don't Know The Half Of It'
Next year he hopes to race fulltime in the British touring car championship . "It's another outlet for speed", he said.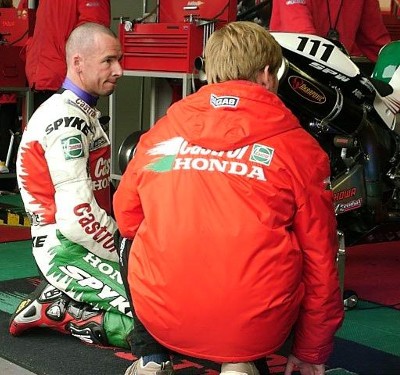 Slight was close to super-stardom in Europe early last year when he was struck down by a stroke promoted by a birth defect which caused a cranial blood vessel to leak. He suffered headaches and blurred and double vision which went undiagnosed or was incorrectly attributed to all manner of things before he finally succumbed in the surf at Phillip Island, near Melbourne, while taking a break with mechanics during race testing for his Honda team.
He has ridden 239 superbike world championship races, more than any other rider since the event started in the early 1970s, for 13 wins, 42 seconds and 32 thirds. He finished second in the championship twice and third four times. "I can't tell anyone that felt really great or satisfied me," he says in the book. But the measure of the regard in which he is held by New Zealand fans has been the queues outside bookstore signings.
Today he agreed he had achieved far more than he ever believed he would when he chose the bike track as his path: one that has taken him from Masterton to his present address in Monaco, with millions in the bank and invested so he and his wife Megan can now do what they want in life. "I think I was the best rider in the world a few of those years, but I was on the wrong equipment," he said.
Superbike rules specify four-cylinder, 750cc power-plants, or 1000cc v-twins, and he stuck with the smaller Honda machines while Ducati took repeated titles with the larger.
His illness hit while he was doing trials of Honda's 1000cc answer to the Italians and their chief rider and repeat world champion Carl Fogarty. It was the bike with which Slight considered he would win after running with the race number 111 in 1999 to signify his three third placings. "Win at all costs is motorcycle racing's motto and it suffers the sick poorly," he said of Honda's decision to cut him from the team. "I've closed the door on that now." He has knocked back offers from Ducati and Aprilia to test ride and set up grand prix bikes and superbikes. "You're either racing or you're not."
"After a brain operation last year, I started to think, 'Well, I've been lucky in bikes. Maybe it's time for a fresh start'."
He has toyed with cars for years, competing in the Wellington street race in 1993, renting a Formula Ford for three rounds of the New Zealand championships in 1994 and competing at Pukekohe's six-hour race two years ago. He had a seventh and a did-not-finish in two British touring car races for Peugeot this year. That, and a third in his one Auscar race, has attracted attention that he hopes will lead to a race deal for next year.
Bike racing turned from fun to something super-serious, day-in, day-out, he said. "And now I'm looking for some fun again." The brain problem has been rectified, but he has a problem with his right hand. Otherwise, he is healthy. And thankful for it.